10 Different Ways to Utilize Ghee for Hair & Skin
27 December, 2018
Ghee nutrition facts make it not only tasty but equally healthy. Let's understand different uses of ghee along with its benefits for hair and skin and unveil a place where you can buy dairy products online.
Ghee is the most desired and acceptable dairy item that our grandmothers and mothers use it not only for cooking but for various other factors. We have grown up consuming ghee in various forms and even used it for our skin, hair, and health.
Let's go through 7 incredible ghee benefits for skin:
1. Moisturizes your face:
Beautify the delicate skin of your face with ghee. To pamper your skin, make a solution of equal parts of ghee and water, mix it and apply it on your face. Now wait for 15 minutes and wash off with cold water. Your skin will start turning smooth and soft.
2. Hydrates dry skin:
The fatty acids in ghee help to hydrate the skin and make it instantly soft and supple. All you have to do is warm a half bowl of ghee and massage your entire body for 3-5 minutes before taking a bath. It is a perfect antidote for dry winter skin.
3. Brightens skin:
Consuming ghee is a perfect natural ingredient to brighten your skin. Make a mask by mixing raw milk, gram flour and an equal amount of ghee. Apply it on your skin and wash off after 15-20 minutes. You will see an instant difference.
4. Slows down skin aging:
Regular use of ghee has the ability to defy time. Massage your skin with ghee and see it turning all happy and young.
5. Cures chapped lips:
Rubbing chapped lips with ghee can instantly moisturize it. Apply ghee on your lips and massage it. Leave it overnight and you will wake up to soft lips.
6. Lightens dark lips:
Ghee incorporates properties that have the capability of curing pigmentation. Apply it as a moisturizer for few weeks on dark lips and see the difference.
7. Brightens up eyes:
Ghee is a natural and safe ingredient to cure dark circles. Apply it under your eyes regularly and get fresh, bright and relaxed eyes within a few days.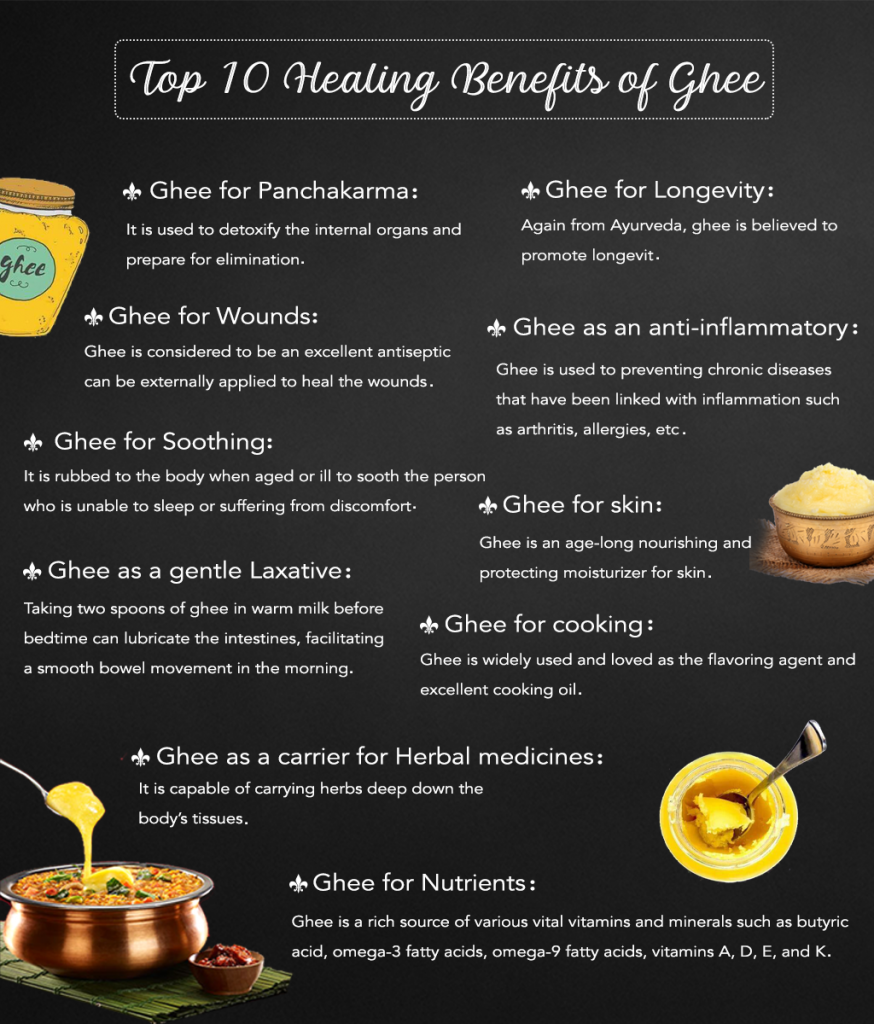 Let's ponder over 3 best benefits of ghee for hair health below:
1. Fights split ends:
Massage dry hair with ghee to take care of split ends. Apply warm ghee to the ends of your locks and wash off with a mild shampoo after an hour.
2. Deeply conditions hair:
Ghee is capable of turning dry and frizzy hair into soft and shiny tresses. All you have to do is mix equal parts of ghee and olive oil and massage your hair for 15-20 minutes. Rinse it off with a mild and good shampoo.
3. Stimulates hair growth:
Ghee is considered to be an age-long remedy for hair growth. Massage your scalp with warm ghee mixed with an equal amount of coconut oil. This mixture is a perfect remedy to encourage hair growth.
Ghee benefits our body in numerous ways both internally and externally. To buy the best quality ghee online, hop into Awesome Dairy. It is India's first online dairy store which offers various ranges of dairy products at an amazing price.