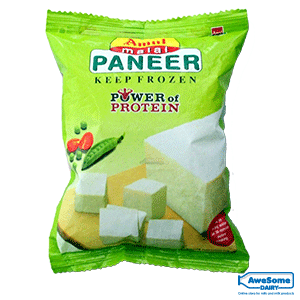 Amul Malai Paneer 100gm
Manufacture Date:
Expiry Date:
Buy Online Amul Malai Paneer at Best Price on Awesome Dairy along with more Amul products.
Diced Paneer
Frozen paneer
Malai paneer
Product Description
Product Description
Buy Amul Malai Paneer at Best Price on Awesome Dairy.
Amul
Leading brand in India for its food products and the beverage products and is known for high quality milk and milk products
Amul Malai Paneer
The diced pack contains Amul paneer

Frozen Amul paneer needs to be thawed in boiling water for 30 mins before cooking

Paneer can be used for making various savoury dishes

Milk solids are used to make the product which provides it the required consistency

Net content of the pack is 100gm
Nutrient content
Enriched with protein and calcium

Store in the freezer again after using

Paneer has smooth and uniform texture and is soft
Precautions
Always keep under refrigeration

Keep frozen

Best before 180 days from packaging when stored at -18 degree celsius
Product Description
Additional Information
| | |
| --- | --- |
| Brand | Amul |
| Quantity | 100 gram |
| Key Features | High Fat, Malai Paneer |
You may also like…
Buy Gowardhan Classic Block Paneer on Awesome Dairy. Gowardhan ...

Buy Amul Malai Paneer 200gm at Best Price Online on Awesome Dairy. ...

Mahanand In Mahanand, Milk is processed, packed, and stored under...

Awesome Price - ₹ 40
Search Feedback
Did you find what you were looking for?
[contact-form-7 id="1295" title="Query Yes"]
[contact-form-7 id="1296" title="Query No"]
If you need help or have a question for Customer Service, please Contact us.

Any Query?