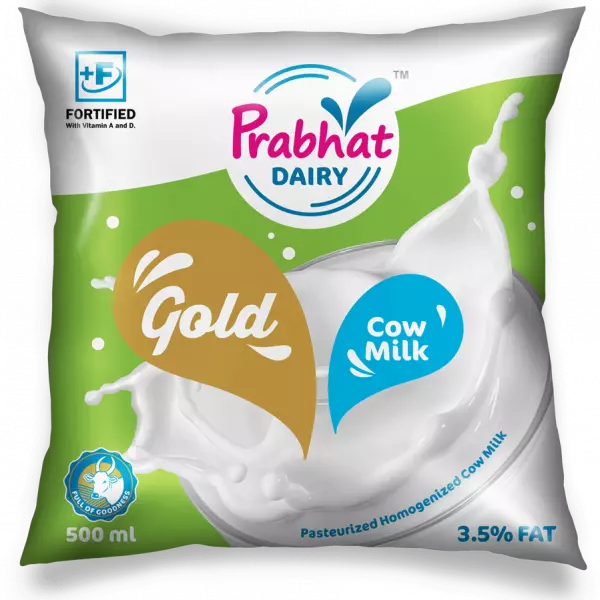 5% Additional Discount on Online Payment. Any Question call on 8007444470.
Prabhat Gold Pouch 500ml
Manufacture Date:
Expiry Date:
Much thicker and tastier.
Good for preparing thick curds.
Nutritious Homogenized milk with 4% Fat and 9% SNF(as against 3% Fat and 8.5% SNF Toned Milk) with added solids.
Now available in 500ml, 1liter and 5liter pouch in Shirdi
Out of stock
Email when stock available
Product Description
Product Description
You family can get a very healthy doze of extra with Paushti Milk's Fat 3.5 %/ SNF 9 % formula.
The milk is 

pastuerized and homogenised

The milk is packed into Tamper resistant pouches and delivered in temperature control vans i.e. reefer vans

The milk is untouched by human hands while packing and thus is first seen by customers only

Subscribe for Milk for 30, 60 or 90 days

Net content of the pouch is 500ml
This product is created especially for those who need that extra energy to achieve more in life.
The Vitamin A, D, E and K, and extra protein make it a healthier habit and choice for your loved ones.
The pigment Beta-carotene which is present naturally in cow milk helps improve the immune system and brain development.
This makes it a great option for your kids and their growing body.
Also, with profound rich goodness of the milk makes your tea, coffee, desserts and other foods thicker and creamier in texture, and tastier to relish.
It is the perfect blend of extra taste and health for you and your family.
Precautions
Best before 2 days from the date of packaging
Store in a cool and dry place
Product Description
Additional Information
| | |
| --- | --- |
| Brand | Mahanand |
| Subscription for | 30 Days, 60 Days, 90 Days |
| Litre per day | 0.5 litre, 1 litre, 1.5 litre, 2 litre, 5 litre |
Search Feedback
Did you find what you were looking for?
[contact-form-7 id="1295" title="Query Yes"]
[contact-form-7 id="1296" title="Query No"]
If you need help or have a question for Customer Service, please Contact us.

Any Query?