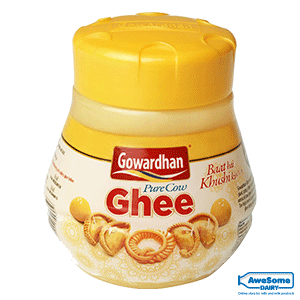 Gowardhan Ghee 500ml Jar
Manufacture Date:
Expiry Date:
Rich texture
Pure cow's milk used
Untouched by human hand

Best before 12 months

Full flavour and aroma

No Preservative / Chemicals
Product Description
Product Description
Gowardhan
Gowardhan owns the largest cow farm in India as well as Asia's largest cheese plant

The company is committed to international standards of product quality
Gowardhan Ghee
Gowardhan Ghee is pure and untouched by human hands

100% cows' milk is used to produce the ghee

It is produced in a modern dairy plant, using a time-tested traditional recipe

This is done to capture full flavour and aroma of cow ghee

The melting point of the ghee is low making it a healthy option

Net weight of the jar is 500ml
Nutrient Content
Ghee is a rich source of natural vitamins and beta carotene

Enriched with protein, calcium vitamin A
Precautions
Store in a cool and dry place

Store in a place away from moisture, insect, strong odour, sunlight and dust

Best before 12 months from the date of manufacture

Do not buy if the jar is damaged
Product Description
Additional Information
| | |
| --- | --- |
| Brand | Go, Gowardhan, Parag |
| Quantity | 500 ml |
| Key Features | Made From Cows Milk |
You may also like…
Mahanand In Mahanand, Milk is processed, packed and stored under ...

Amul Amul is the leading brand in India for its food products and...

Awesome Price - ₹ 2550

Buy Nutoras Pure Cow Ghee Online by Nutoras. Nutoras Nutoras f...

Awesome Price - ₹ 799
Search Feedback
Did you find what you were looking for?
[contact-form-7 id="1295" title="Query Yes"]
[contact-form-7 id="1296" title="Query No"]
If you need help or have a question for Customer Service, please Contact us.

Any Query?