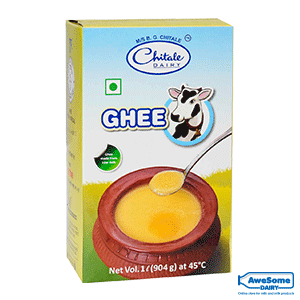 Chitale Ghee 1 liter Pouch
Manufacture Date:
Expiry Date:
Rich texture
Fresh cream used
Pure cow ghee
Other Sellers on Awesome Dairy
Sorry no more offers available
Product Description
Product Description
Chitale Dairy
The Group has achieved a distinct edge in the form of India's most modern and sophisticated buffalo and cow farm

Research and development has always been the Group's primary focus
Chitale cow ghee
Chitale cow ghee has the typical rich aroma

It has a granular texture

Ghee is a good source to energize the body

Fresh cream is used to make the ghee which makes it a perfect source of energy

The net content of the pouch is 1 litre
Nutrient value
The ghee is enriched with protein, vitamin A, vitamin C, calcium and phosphorous

Ghee is a rich source of natural vitamins and beta carotene
Precautions
Store in a cool and dry place

Store in a place away from moisture, insect, strong odour, sunlight and dust

Best before 12 months from the date of manufacture

Product Description
Additional Information
| | |
| --- | --- |
| Brand | Chitale Dairy |
| Key Features | Made From Cows Milk |
| Quantity | 1 liter |
You may also like…
Amul Amul is the leading brand in India for its food products and...

Awesome Price - ₹ 2550

Mahanand In Mahanand, Milk is processed, packed and stored under ...
Search Feedback
Did you find what you were looking for?
If you need help or have a question for Customer Service, please Contact us.

Any Query?