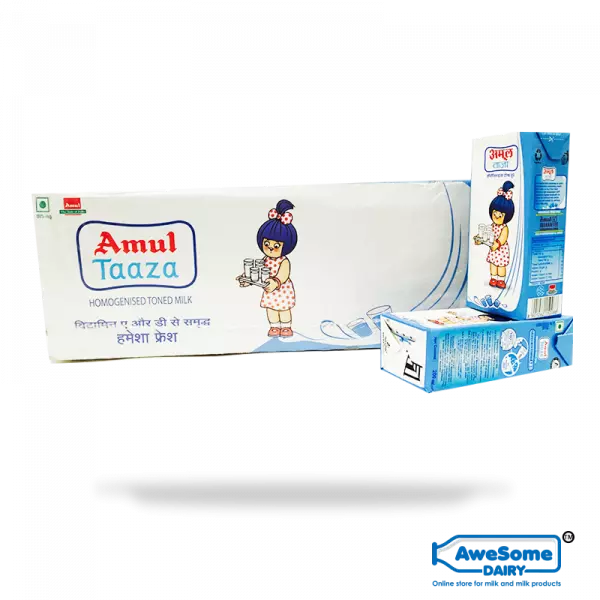 Amul Taaza Homogenised Milk 200ml,30 Packets
₹480.00 (incl. of all taxes)
Manufacture Date:
Expiry Date:
Buy Amul Taaza Homogenised Toned Milk 200ml on Awesome Dairy along with other Amul Products.
No need to boil
Powder or water not added
Does Not contain preservative / chemical
Easy to carry while travelling
Direct consumption from pack possible
Product Description
Product Description
Buy Amul Taaza Homogenised Toned Milk 200ml on Awesome Dairy.
Amul
Leading brand in India for its food products and the beverage products and is known for high quality milk and milk products
Amul Taaza Homogenised Milk
It comes under the category of homogenised toned milk

The milk is long life consistent and fresh product

Also been processed to give smooth consistency preventing cream layer formation

The air tight packaging helps for the long life of milk and it can be kept for 6 months with the help of refrigeration(once opened, it should consumed within 2 days)

Sterilised at a high temperature (UHT treatment) and packed aseptically to give safe and nutritious milk which stays fresh until opened

Net content of the pack is 200ml (27 pieces)
Nutrient Content
Enriched with vitamins A & D

SNF 8.5% minimum

Fat 3.0% minimum
Precautions
Should be consumed within six months from manufacture(unopened)

Consume within 2 days after opening(refrigerate)

Shake well before use

Do not buy if the pack is damaged or puffed
Product Description
Additional Information
| | |
| --- | --- |
| Brand | Amul |
| Key Features | Toned Milk (Fat 3.0% – SNF 8.5%) |
| Quantity | 200ml |
You may also like…
GO 'Go' is derived from Gowardhan which means 'cow' Go...

Awesome Price - ₹ 792

Buy Amul Gold Homogenised Standardised Milk on Awesome Dairy. Amul ...

Awesome Price - ₹ 864
Search Feedback
Did you find what you were looking for?
[contact-form-7 id="1295" title="Query Yes"]
[contact-form-7 id="1296" title="Query No"]
If you need help or have a question for Customer Service, please Contact us.

Any Query?